The purple patch of Ben Stokes has provoked a lot of discussion about the greatest allrounders. We take a deep-dive to talk about the role of allrounders in Test cricket, the great allrounders over the years, and how to make sense of their immense contributions.
Our guests for the episode are Arj and Rav. They have recently started a cricket project called CricVestigate which aspires to uncover hidden cricket truths – past and present, and to provide alternative opinions and analysis.
Talking points:
What is a good definition for an allrounder?
The allrounder index created by CricVestigate to rank the allrounders
Batting allrounders vs Bowling allrounders
Great cricketer vs Great allrounder
The pitfalls of the allrounder obsession and its impact on team balance
Narrative fallacies around allrounders – mixing formats, aggregate career stats vs peak phase stats
Is it possible to nurture an allrounder?
Do the different skills of an allrounder necessarily add value to the team?
Are wicketkeeper-batsmen allrounders? Making sense of the Gilchrist phenomenon
Allrounders XI playing in their positions
Participants:
Arj
Rav (@rav_man0)
Mahesh Sethuraman (@cornerd)
*
Lead image from Wisden.com
Related:
Cricinfo's S. Rajesh on Gary Sobers – an allrounder like no other and Imran Khan – A giant among allrounders
Gideon Haigh on Garry Sobers and Kapil Dev
Osman Samiuddin on Imran – the original transformer
Cricinfo's Greatest allrounder poll
Kartikeya Date on Kallis, a great batsman but no allrounder
CricVestigate's allrounder index: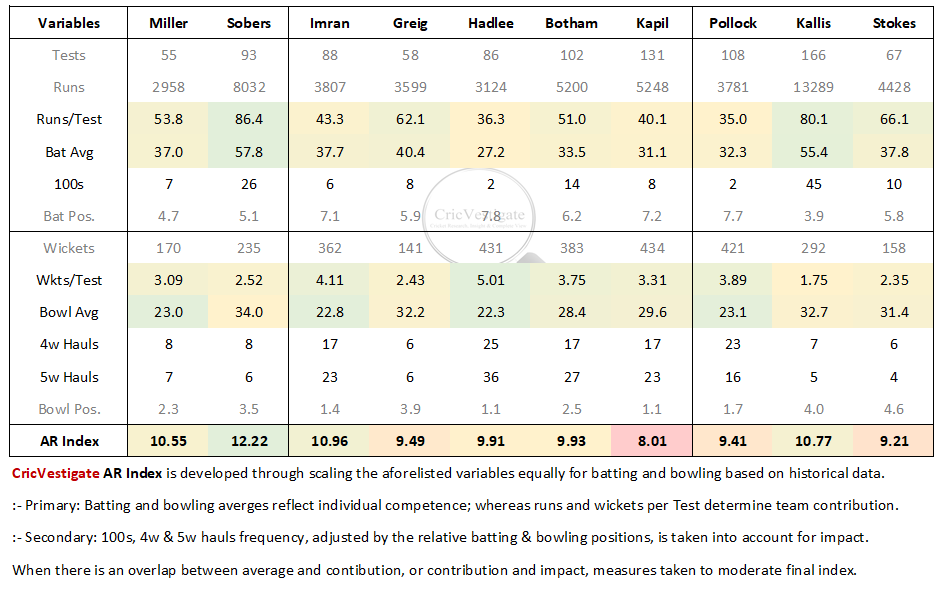 ---